Welcome to the Club from all of us.
The Club was formed on 22 June 13 with it's own site and on Facebook. The reason for the forum is that it was felt other Clubs at the time often came up short when it came to caring about the members and what they thought. As the members who broke away from a previous Club were responsible for the majority of that Clubs meets we thought that if we are doing all the hard work why not make our own Club. To that end we have committed ourselves to ensuring that our motto of "Get you out in your DS3!" is kept going with more meets than ever before and as far and wide as we can manage. We are also ensuring that all profits made by the Club will be put straight back into the club to cover the overall running and promotion of the Club. Members will be consulted about any major changes and feedback will encouraged. We have been highly successful so far and encourage you to come and meet us and join in the fun. After all, a car is for driving and a Club is for meeting people.
So, who is going to be running the Club you may well ask. Here is our Admin Team
ds3adi - Site Owner (Martin)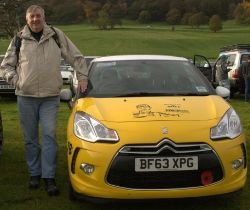 Now on my third DS3 I have been around the DS3 scene almost from the beginning. With the help of others I have been responsible for 90% of the DS3 meets in the UK over the last three years. So if you have ever seen a large convoy of DS3's around then I was probably one of them. Through liaison with Citroen UK we have arranged events ranging from Brighton Fringe, Simply French, Goodwood Motor Show, FCS, Trax all the way to Rally GB! All the events have been successful which has encouraged more people to get out in their DS3 and enjoy it. I have also arranged trips to France and visited both the factory in Poissy to see the DS3 Production Line and also the Citroen Conservatoire (along with DS3 Spirit). My aim for the club is to get you out in your DS3 and enjoy it!
Arlow - Admin (John)
I have been a DS3 owner since early April 2011, it would have been earlier but Citroen announced the Racing whilst I was considering buying a DS3 and so began a 7 month wait. Within a month of ownership I'd attended my 1st meet and I haven't looked back since. I've helped Martin with many of the meets and appear to have become the designated navigator, you'll often see me leading the convoys. I'm looking forward to helping Martin make a success of the club and you to enjoy the club and your DS3.
AJ07 - Admin (Andrew)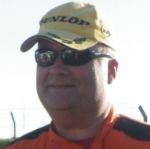 I have owned my DS3 since February 2012 although I first fell in love with this little car two years previously when she was first launched. I have not been on as many meets as Martin and John but have enjoyed the jaunts that I have been part of and look forward to many more in the future although this year I am busy getting rid of my Trainee Marshal badge so have to juggle my weekends between DS3GBOC meets and Marshaling at Brands Hatch. My DS3 is a DSport eHDI Airdream in the very rare Shark Grey Carmen Red colour combination and she has a beautiful Red Amarante Leather Interior.
DS3_JO Admin and Photographer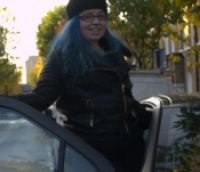 Hi, I'm Jo. I've had my DS3 since 2012 and fell in love as soon as I saw it! I'm one of those girls that absolutely adores cars and racing, so joining DS3GBOC was perfect as we attend many shows, meets & motorsport events including RallyCross & WRC. Not only do I enjoy attending and watching, I love to shoot these events! I'm very honoured to be a part of the admin team of this awesome club & am looking forward to what the future holds.
(I'm the short one, with bright coloured hair & a camera)